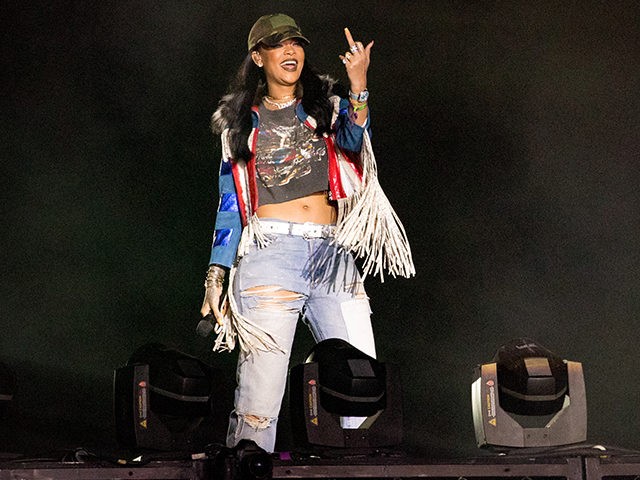 Rihanna is the latest musician on a long list of artists who aren't happy with Donald Trump using their music during his rallies or other events. "Currently, Rihanna's "Don't Stop the Music" is blaring in Chattanooga as aides toss free Trump T-shirts into the crowd, like a ball game".
It's unclear if Rihanna planned to send Trump a cease-and-desist letter or what action she hoped to take against the president.
In a tweet posted on Sunday, she was informed that her 2007 hit "Please don't stop the music" was being played at a Trump rally in Tennessee.
Rihanna's withering put-down of the Trump gatherings as "tragic rallies" went down brilliantly on Twitter, with the diss racking up over 346,000 likes on Twitter at the time of writing.
Just yesterday the philanthropist who has increasingly been vocal about social and governmental issues around the world, used Instagram to gave her support for the Democratic nominee for Governor in Florida, Andrew Gillum.
Spice Girls announce huge reunion tour minus Victoria Beckham
Meanwhile, earlier today , Mel B appeared on Loose Women where she confirmed a world tour will follow the United Kingdom shows. Victoria Beckham has broken her silence following the news the Spice Girls have reunited and will be touring without her .
'Let's #BringItHome, Florida, ' she wrote - but will the Sunshine State listen?
One singer, however, was less than thrilled to learn that the president had also been using her music without permission.
"If you're exhausted of feeling like you don't matter in the political process", Rihanna wrote in an Instagram post. Most recently, Pharrell sent a cease and a desist to 45 for using his song "Happy" at a rally in IL.
"Unfortunately the Trump campaign is using loopholes in the various venues' blanket performance licenses which were not intended for such craven political purposes, without the songwriters' consent", Rose tweeted earlier Sunday morning.
"There was nothing "happy" about the tragedy inflicted upon our country on Saturday and no permission was granted for your use of this song for this goal".