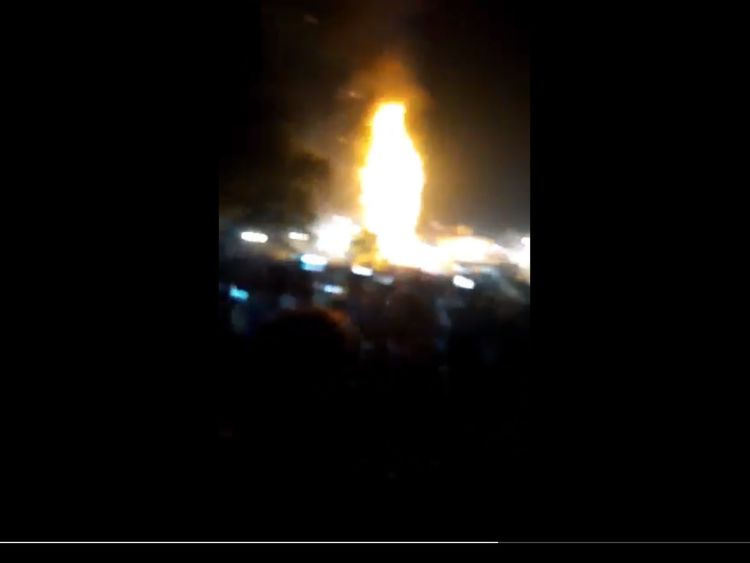 The incident took place after a crowd of Dussehra revellers spilled onto railway tracks while watching the burning of Ravana effigy was run over by a train.
Hundreds of people were observing the burning of an effigy of the demon Ravana during the Hindu festival of Dussehra when the train struck, he said. It was an EMU train, running between Jalandhar and Amritsar. The injured have rushed to nearby hospitals.
The Home minister said he has spoken to Home secretary and DGP of Punjab regarding the accident and they are rushing to the spot. A state government official has said that at least 50 were killed and more than 50 were injured.
The moment was captured on many people's camera phones as they were filming the fireworks as the train sped passed in front of them. One of the eyewitness has said that an alarm should have been raised when the train was approaching the crowd or it should have slowed down. "Extremely saddened by the train accident in Amritsar", he said on Twitter. "My deepest condolences to the families of those who lost their loved ones and I pray that the injured recover quickly". He said district authorities have been mobilised on war footing. He said he asked officials concerned to provide immediate assistance.
Sri Lankan President calls PM Modi, rejects reports on 'RAW assassination plot'
Media minister, Mangala Samaraweera said that this was a disinformation campaign and urged reporters to be more responsible. At the Cabinet meeting, Sirisena also hinted that Indian national must be "be a RAW agent" who was sent to kill him.
Another five were killed in December when they were hit by a train in the same state, with 60 thought to having died on the tracks in the whole of 2017 - and 110 the year before that.
On the other hand, another eyewitness at the Amritsar accident site alleged that the event was organised by the Congress party without seeking due clearances. "We are evacuating people, injured taken to the hospital".
Punjab Chief Minister has directed Home Secretary, Health Secretary and ADGP Law and Order to immediately rush to the accident spot.