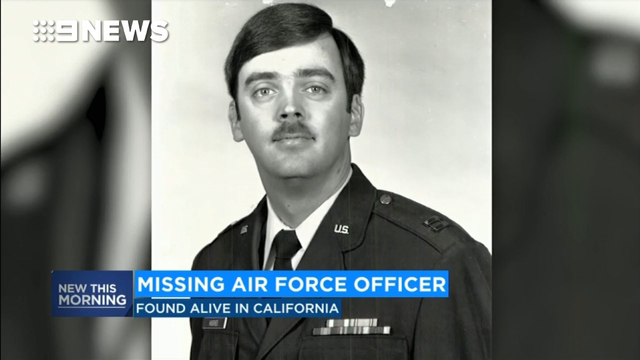 The Air Force Office of Special Investigations said in a news release they had apprehended the man, identified as Capt. William Howard Hughes, Jr., an officer who had top security clearance when he disappeared in New Mexico 35 years ago.
William Hughes Jr. deserted the branch in 1983 after coming back from duty in western Europe, according to Air Force Office of Special Investigations officials. He was in charge of highly classified operations involving NATO's command, control and communications surveillance systems, Task & Purpose, a news outlet run by and for veterans, reported.
He was last seen in Albuquerque, New Mexico, withdrawing US$28,500 (S$38,000) from his bank account at 19 different locations.
Hughes told authorities he was depressed about being in the Air Force and made a decision to leave, creating a false identity.
Hughes apparently lived in California under the assumed identity of Barry O'Beirne.
Hughes has been charged with desertion and is being held at Travis Air Force Base in California.
William Howard Hughes Jr. was formally declared a deserter by the Air Force on December 9, 1983.
Told one of Hughes' three sisters at the time, 'We do not feel he disappeared voluntarily'.
E3 JUMP FORCE Trailer Unites ONE PIECE, DRAGON BALL, and NARUTO
The release trailer for Jump Force premiered at this weekend's E3, revealing Shonen Jump faves in full fighting game mode. Notably, he stated that there would be characters present that haven't really been in video games before.
Linda Card, a spokeswoman for the Air Force Office of Special Investigations, told the Albuquerque Journal Sunday that to this day officials still do not have any evidence indicating leaks of classified information.
An undated picture of Capt. William Howard Hughes, Jr.
Last year, there was uproar when Bowe Berhdahl was spared prison time after being found guilty of deserting his Afghan outpost - instead he was reduced to private in rank, dishonourably discharged and lost pay.
However, if an investigation finds Hughes leaked classified information - officials in the '80s initially anxious he might have defected or been involved in espionage - it would get a lot worse than a desertion conviction.
In a 1986 Los Angeles Times commentary titled "Sabotaged Missile Launches?" for example, the former longtime New York Times foreign correspondent Tad Szulc wrote: "The French and American accidents are adding up to a weird pattern, surrounded by odd coincidences and unexplained events, deeply preoccupying Western intelligence".
His family did not appear to know about his disappearance with the Albuquerque Journal reporting that his sisters said at the time that they thought he might have been abducted.
"Intelligence officers point out that Hughes' knowledge of all the top-secret rocket launch procedures was invaluable to the Soviets", Mr Szulc wrote in July 1986. "He was very pleasant", said neighbor June Dayao, 60, a retired teacher who recognised her neighbour's face in a photograph released by the Air Force.