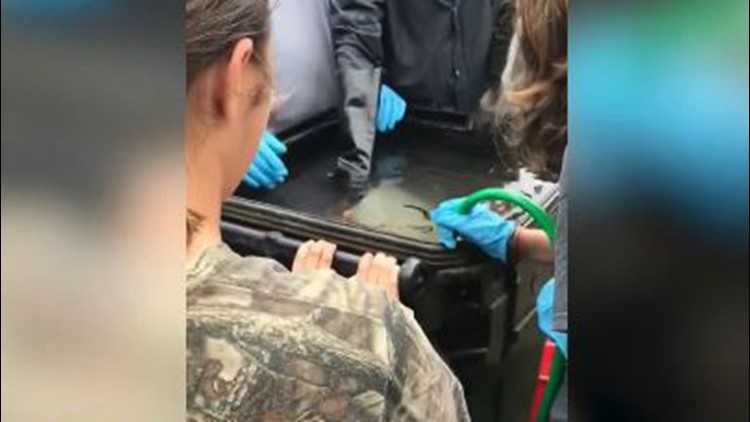 "We obtained statements that the trainer drowned a number of animals in entrance of scholars, and with scholar participation, as a result of the animals had been nuisance animals to the [agriculture] program on the college", Marion County Faculty District spokesman Kevin Christian informed the Star-Banner. One of the chickens was killed by a wild predator and they suspected raccoons or a opossum was responsible.
That student's mother says her son was made to stand with his fellow classmates and drown two raccoons and a possum.
Pictures and video taken by the student show a raccoon in a metal trap, which the teacher and students lifted into a garbage bin while it filled up with hose water, WKMG reported.
"My son stood in the background, hid his phone and watched as they filled these trash cans full of water, and held these raccoons down in trash cans in the cages", the parent told the station. Before that, he made the students were asked to collect water in buckets.
Government terminates Virgin Trains East Coast franchise
Stagecoach boss Martin Griffiths said he was "surprised and disappointed" at the government's decision. Employees working for Virgin Trains East Coast will transfer over to LNER.
She claims the raccoons were held down with metal rods when they tried to come up for air.
The teacher of the agriculture class was placed on paid leave Tuesday. "The district is determining the status of the teacher at this moment". The Florida Fish and Wildlife Conservation Commission is also looking into whether something illegal occurred.
Forest High School's Future Farmers of America Alumni Chapter has since rallied around Brewton, who is the group's adviser. FWC Officers are investigating to see the legality of the issue that occurred. The findings of that investigation will be presented to officials with the state attorney's office, who will then decide if criminal charges are appropriate in this case. He has always gone above and beyond his call of duty to ensure that his students had everything they needed'. Whether it is a raccoon or [another animal] you just don't torture an animal and kill it like that. I think that everyone makes mistakes on a daily basis and he should not be fired because of one mistake out of the 12 Year's he has worked at forest. "They should have trapped the animal and had somebody take them and relocate the animals", a parent told WKMG.