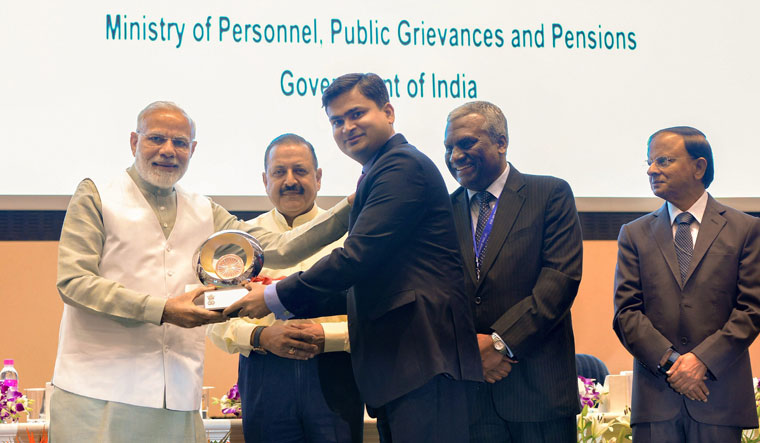 Prime Minister Narendra Modi on Sunday underlined the support the BJP had received from backward sections of the society by noting that it had the maximum number of elected lawmakers from OBC, dalit and tribal communities, and asserted that its reach was no longer confined to a particular class, urban centres or north India.
Prime Minister Narendra Modi has said, the mode of earning and way of living in rural India are transforming and there is a need to connect the ground capabilities with mainstream economic systems. The report adds that IMA national president Dr Ravi S Wankhedkar urged Modi to reconsider his statement, as issues like medicine prices are in hands of the government, and not the medical fraternity.
The Prime Minister asked party legislators to avoid tendency to jump to an analysis before television cameras and later blame media for controversies. He also asked all the party MLAs to undertake at least one developmental work for villages under them, while directing MPs to increase their Twitter followers to atleast 3 lakh.
In a video chat with party lawmakers, Modi also asked them not blame the media for reporting their statements. He said Mudra Yojna is also helping people and 11 crore people have already been benefitted from the scheme.
While speaking at a campaign meeting in Sulebhavi village a few days back, BJP MLA Sanjay Patil had said that the upcoming assembly election in Karnataka is not a fight for good roads or drinking water but is about Hindus and Muslims.
CNN's Dana Bash Battles WH's Kellyanne Conway over Husband's Tweets
Conway added that Bash's prompt "was meant to harass and embarrass" and suggested that she wouldn't have been asked that question if she were a man.
He also mentioned about social activist Anna Hazare's village, where he had stressed on cleanliness and how that village had now become a model for others to follow.
Modi said the BJP didn't come to power because of the mistakes of the Congress party.
The PM also talked about the Mudra Yojna, saying it had benefitted almost 11 crore people. He said, "Women in self-help groups are coming up with new employment opportunities in various sectors". "The government is focusing on education to children, opportunities for youth and medicine for elderly".
Stressed on the collective power of the people living in villages, Modi said, "The development of villages is not a work of only the budget or the government".
The Prime Minister also held discussions with MPs and MLAs of various issues such as skill development, issues related to the development of rural areas and the welfare of farmers.