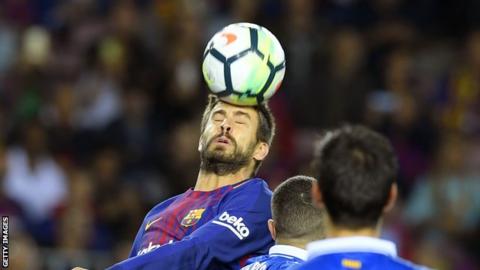 Following the recent loss of Brazilian Superstar, Neymar, Barcelona has revived activities by extending Gerard Pique Contract to June 30, 2022.
And if someone wants to sign the Spanish defender, 30, they will have to meet his staggering £440MILLION buyout clause.
"In the coming days the club will announce the date of the official signing of the new contract", which will keep the player, who rose from Bara's youth ranks, for the rest of the current season and the next four years.
Pique, who has earned 94 global caps since 2009, was also a key part of the Spain side which won the World Cup in 2010 and Euro 2012.
Pediatric flu deaths reported in Kentucky and Ohio
Influenza A, the most common strain in Kentucky is being attributed to the deaths. "But we are in peak flu season". Harrie notes that the health department only tracks cases where residents were hospitalized for 24 hours or more.
Soon to celebrate his 31st birthday, the centre-back has played over 420 games for his boyhood club and is one of the most decorate players of his generation anywhere in the world.
With Spain, he won the World Cup in 2010 and the European Championship in 2012.
Meanwhile, Barcelona now tops the Spanish League with nine points leads over Atletico Madrid.
Long-serving Barcelona defender Gerard Pique puts pen to paper on a new four-and-a-half-year deal, which has a release clause of £440m inserted.