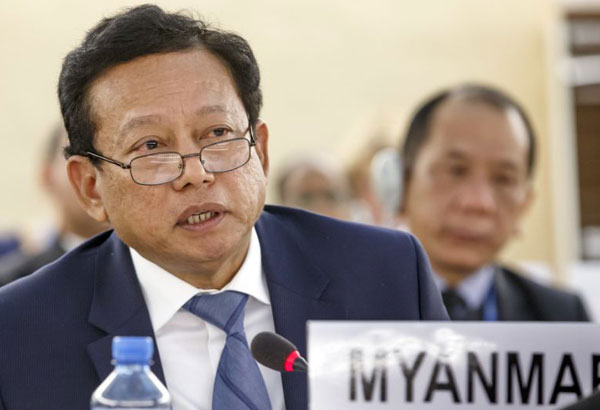 The UN rights chief warned Tuesday that Myanmar's abuses against the Rohingya, prompting some 620,000 members of the largely Muslim minority to flee in a matter of months, could contain "elements of genocide".
That from the UN's top human rights official at a special session of the Human Rights Council in Geneva.
"Given all of this, can anyone rule out that elements of genocide may be present?"
"Ultimately, this is a legal determination only a competent court can make", he told the council.
Zeid urged the Council to recommend that the UN General Assembly establish a new mechanism "to assist individual criminal investigations of those responsible".
"My government is doing everything possible to deter these extremist acts", he said.
In the sprawling camps of southern Bangladesh, now home to over 800,000 Rohingya, many say they would prefer to remain there, because they do not trust Myanmar's assurances of safe return.
Zeid slammed "widespread, systematic and shockingly brutal" attacks against the Rohingya, as well as policies that had dehumanised and segregated the minority, and left it wallowing in statelessness for decades.
Bangladeshi Foreign Minister Shahriar Alam warned that the massive exodus over such a short period was "comparable only with the exodus following the 1994 Rwanda genocide".
He told the session that his country was hosting almost one million "Myanmar nationals" following summary executions and rapes "as a weapon of persecution". He also is calling for an worldwide investigation to bring to justice the perpetrators of these crimes.
Gus Malzahn agrees to new 7-year deal with Auburn
Auburn now holds a 4-1 record in the game, with its last appearance resulting in a 43-24 victory over Virginia in 2011. The matchup between the two teams will kick off at 12:30 p.m. and will be broadcasted by ESPN.
Last month, Bangladesh and Myanmar signed a memorandum of understanding (MoU) on Rohingya repatriation.
After months of hard negotiations, Myanmar and Bangladesh signed a deal in late-November to begin repatriating refugees within two months.
"But it needs to ensure that its rhetoric is matched by its will to prevent further mistreatment, forced returns, and assaults to the human rights and dignity of the Rohingya", she said.
The resolution calls on Myanmar to "address the root causes" of the Rohingya crisis, and to fully cooperate with the different United Nations bodies, providing full access to investigators and humanitarian workers.
Zeid said actions by Myanmar's government to "dehumanize" the Rohingya minority were likely to fan more violence and affect more communities across the region.
He also urged providing the Rohingya Muslims with humanitarian and relief assistance and reconstructing areas destroyed by state authorities in Myanmar.
The Myanmar government considers the Rohingya to be stateless immigrants from Bangladesh, despite their generations-long presence in the country.
Zeid lamented the refusal inside Myanmar but also by some worldwide players to even name the Rohingyas, creating "a shameful paradox".
In November, the U.N. Security Council failed to pass a resolution condemning the violence in Myanmar's northern Rakhine and instead issued a statement after acquiescing to strong objections by China.
But Myanmar has so far refused to cooperate and has blocked access to the team of investigators, who have begun their work outside the country.