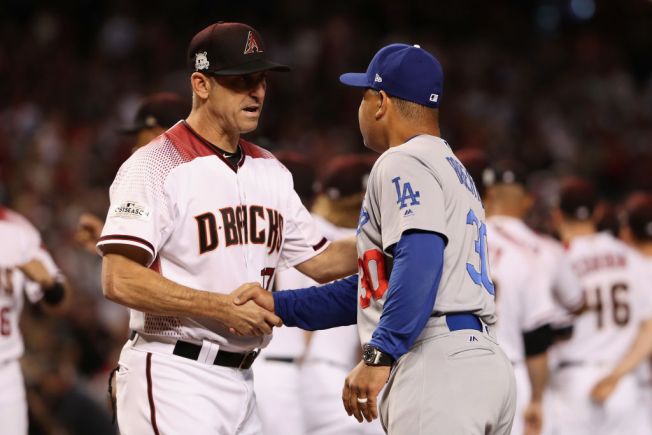 There was no sure-thing like when Aaron Judge and Cody Bellinger won the Rookie of the Year awards.
Major League Baseball has named Diamondbacks manager Torey Lovullo the National League Manager of the Year for 2017.
Roberts received five first-place votes while Black and Counsell received three apiece. Los Angeles Dodgers manager Dave Roberts finished second.
Dave Roberts of the Dodgers was second and Colorado's Bud Black was third.
A Hall of Fame player during a 21-year career with Milwaukee, Toronto and Minnesota, Molitor became just the second Cooperstown inductee to win manager of the year honors, joining Frank Robinson, who won AL honors as the Baltimore Orioles' manager in 1989.
Tyson releases 4th-quarter earnings report, announces purchase of prepared-foods firm
Finally, James Investment Research Inc. purchased a new stake in Tyson Foods during the second quarter valued at about $188,000. Whereas, in last 21 trading days (one month) was surged 7.66% and surged in last 63 trading days (quarter) of 14.60%.
Among the other managers who received first-place votes was Dusty Baker of the Washington Nationals, who received one and finished fifth in the voting.
Arizona beat the Colorado Rockies 11-8 in the wild-card game and then were swept by the Dodgers in the National League Division Series.
Molitor earned 18 of 30 first-place votes. He beat the Indians' Terry Francona by 22 points. Joe Girardi, who wasn't brought back by the Yankees, finished fourth. Houston's A.J. Hinch received the only other first-place vote and finished third. The Twins entered the season with paltry expectations and were sellers at the trade deadline, yet played well down the stretch to earn the AL's second Wild Card spot.
Molitor, 61, already put his name in the record books this year because his Twins team was the first to ever go from a 100-loss season to the playoffs the next season. Turns out it was enough to give Molitor this award too.