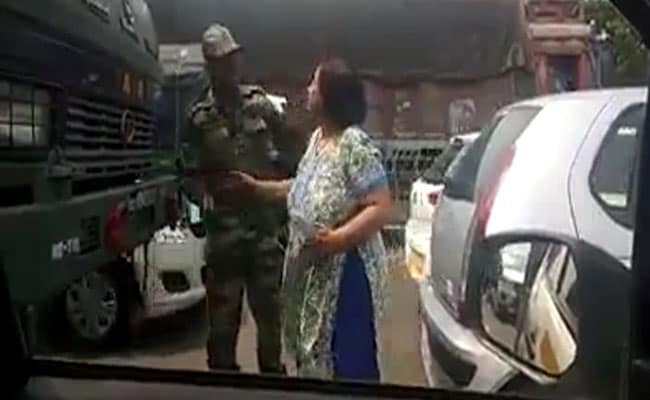 The incident took place on September 9 but was reported to the police on September 13 after which a case was registered and the woman arrested, they said. A video showing the woman thrashing one of the men had gone viral on social media.
The incident took place around 1.30pm on September 11 when an Army group was on its way from the National Security Guards base at Manesar to Nizamuddin railway station. Later, Metropolitan Magistrate Lovleen granted bail to the accused Smriti Kalra after she was produced before the court. The subedar has claimed that the woman was driving the vehicle in a rash manner and that she did not give them space to overtake the auto despite blowing the horn a number of times. He alleged that the vehicle was being driven in a zig-zag manner and Kalra refused to give them way.
When the Army driver honked a few times, the FIR claimed, Kalra slowed down and refused to allow the truck to pass. The police said the woman then came to the truck, banged the windows and hurled abuses at the subedar, who then got out of the truck to speak to her. The complaint said Kalra held the constable by the collar, slapped him and hurled abuses at him. He tried to ask her about their fault but she kept abusing them. As the army jawans got down from the truck, the woman sped away in her auto.
Davis Cup semis all-square as Kyrgios and Tsonga fly the flag
John Millman believes he let David Goffin off the hook after losing the opening rubber of the Davis Cup semi-final in Brussels. Australia's most recent win was in 2003 when they defeated Spain in the final.
A woman who was caught slapping an Army JCO on the streets of Delhi on September 9, has now issued an apology for her act. However, the Army officer had asked his colleague to do a video recording of the incident.
Kalra was arrested from her Gurugram residence, where she lives with her parents.