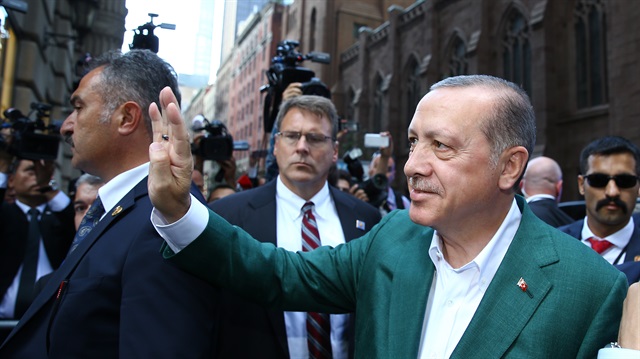 President Donald J. Trump spoke today with President Recep Tayyip Erdogan of Turkey.
"It's not true", White House spokesperson Lindsay Walters said, according to BuzzFeed News reporter John Hudson.
Remember when Turkish President Tayyip Erdoğan's bodyguards viciously attacked and beat peaceful protesters in Washington D.C. back in May? At least nine people were injured and two others arrested during the brawl.
In an interview with PBS NewsHour released Tuesday, the Turkish head of state said Trump expressed regret about the matter during a phone conversation.
"I hope and pray that justice will be served as soon as possible, because I know that the United States is very sensitive in terms of judiciary and in terms of the rule of law and the legal aspects", he said. But he quickly shifted to Trump.
"Actually, President Trump called me about a week ago about this issue", Mr. Erdogan told PBS's Judy Woodruff.
Word of the withdrawn sale came as President Donald Trump and Secretary of State Rex Tillerson were in NY for the annual U.N. General Assembly gathering.
Mitsubishi is officially bringing back the Evolution
The company says that it will see long-term growth and sustainable development for the brand with this new project. The styling of the e-Evolution concept will feature a "low-slung, highly-aerodynamic SUV Coupé shape".
Erdogan and his administration have railed against the US decision to indict the members of the security detail.
The move would block a deal by New Hampshire-based Sig Sauer to sell $1.2m worth of small arms to the bodyguard unit behind the May 16 assault on anti-Erdogan protesters during a presidential visit to Washington.
But video of the incident paints a completely different picture.
The decision to cancel the deal received praise from Congress, where Republican and Democrat lawmakers have demanded Erdogan's bodyguards be punished for their actions.
Mr. Erdogan said that the protesters were terrorists and followers of the exiled educator and preacher Fethullah Gülen, a charge that D.C. police maintain is false. Trump was also regretful over recent indictments of a former Turkish economic affairs minister in a money laundering case here in the U.S.
But White House press secretary Sarah Huckabee Sanders said on Wednesday that while the issue was discussed, there was "no apology".