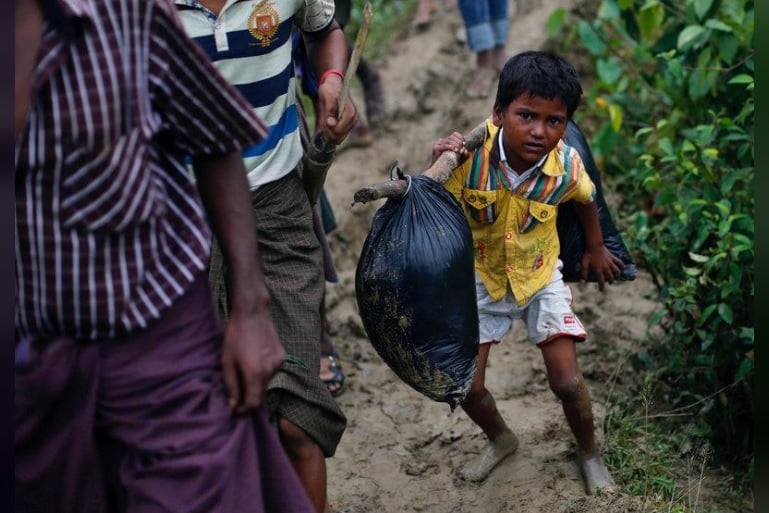 The affidavit filed before the Supreme Court through Mukesh Mittal, joint secretary (foreigners) in the Union ministry of home affairs (MHA), maintains that Rohingyas are "a direct threat to national security" and urges the apex court to "decline its interference leaving to the Central Government to exercise its essential executive function by way of a policy decision in larger interest of the country (sic)" to pave the way for deporting almost 40000 Rohingya refugees back to Myanmar. Myanmar claims the community are illegal immigrants from Bangladesh and denies them citizenship.
"We have to think about the human rights of our own people before talking about the human rights of people from other countries", he said.
A final decision on the fate of Rohingya refugees in India will be taken by the Supreme Court, Union Home Minister Rajnath Singh said on Monday.
The child rights commission has said that Rohingyas are being "systematically tortured and killed" and the entire community can not be branded terrorists.
The driver lost control of the truck, which went into a ditch near the border town of Cox's Bazar where more than 420,000 Rohingya have fled to escape violence in Myanmar, police said.
Rijiju said India would even deport all Rohingya refugees, including some 16,500 who have been registered by the United Nations refugee agency as refugees.
All You Need to Know about the Fitbit Ionic Heart Rate Tracker
Therefore, you can turn the fitness tracker into a rather handy little communication device with the third-party apps. The battery lasts twice as long as Apple's but it isn't quite as long lasting as the Garmin Forerunner .
The NHRC recently issued a notice to the Centre over its plan to deport Rohingyas, who live in various parts of India.
Singh said some people had termed the deportation process of Rohingyas wrong by referring to the "non-refoulement principle", which forbids a country receiving asylum seekers from returning them to a country in which they would be in likely danger of persecution.
The government told Parliament on August 9 that more than 14,000 Rohingyas, registered with the UNHCR, stay in India.
He said the matter is being heard by the apex court and "whatever decision will be taken, it will be taken by the Supreme Court".
The Centre has also held that: "some Rohingyas with militant background are also found to be very active in Jammu, Delhi, Hyderabad and Mewat, and have been identified as having a very serious and potential threat to the internal / national security of India".
Facebook is reportedly removing posts and suspending accounts of activists who are documenting the "ethnic cleansing" of Rohingya Muslims in Myanmar, Daily Beast has reported.