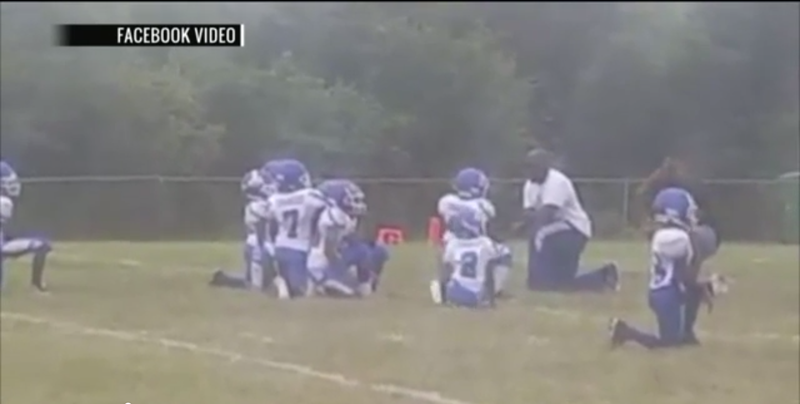 The ensuing discussion eventually included Colin Kaepernick, the ex-49ers quarterback who knelt during the anthem a year ago to protest racial injustice.
Every player from an 8-and-under football team in Belleville, Illinois, took a knee in protest during the national anthem before their game on Saturday, according to KTVI.
Gooden told the newspaper: "One of the kids brought it up and asked, 'What's going on in St. Louis?"
'I felt like it was a good teaching moment for me to circle the team and have a meeting, ' the coach said.
He said he explained to the kids the incidents that have led to protests around the country, including by some athletes during the national anthem. When one of the players asked if the team could also take a knee during the anthem, Gooden allowed it "As long as [they] know why we're doing it".
On Wednesday, St. Louis's KDNL-TV published an op-ed asking the question, "Should children be pushed to protest?"
World is running out of antibiotics, warns WHO report
As of this May, there are 51 antibiotics and 11 biologicals, or medical products made from natural sources, being developed, CNN reports .
The coach said a player responded: "Because black people are getting killed and nobody's going to jail".
Members of the Junior Comanches, a team of 8-year-old boys, planned and staged the demonstration to protest racial injustice - mainly the verdict in the nearby St. Louis trial of former police officer Jason Stockley.
The coach said that, after he brought up Kaepernick's protests, one of his players asked, "Can we do that?"
He said as long as they knew why they were kneeling, he didn't have any problem with it.
When the anthem played during their game, the entire team took a knee and were positioned with their backs to the flag. According to Gooden, the team came up with the idea on their own, and the Belleville News-Democrat reports that their parents supported the decision.
"I told them kneeling is a show of respect, not for those who broke boundaries - I support only peaceful protest - but for the innocent lives that have been touched by injustice".