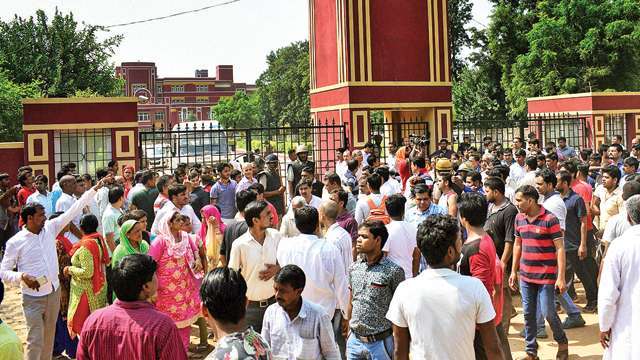 A day after Haryana government took over Gurugram's Ryan International, the CBSE on Saturday served a show cause notice to the embattled school in connection with the murder of a 7-year-old student on its premises.
In response to a Supreme Court query, after the death of the seven-year-old boy at Ryan worldwide school in Delhi, the board sent a circular titled "safety of children" to its affiliated schools.
The committee had found the school guilty of gross negligence. In its notification on Tuesday, the CBSE said the onus of keeping students safe within schools would "solely lie upon the school authorities". The fire safety license of the school is expired since May and most of the CCTV cameras installed in the school building are not functioning the report says. The committee submitted its report to the CBSE on Friday.
CBSE's circular also listed preventive mechanism and procedures that should be implemented by schools to ensure safety of children studying there. Separate panels are directed to be formed to deal with all sorts of internal complaints while a committee has to be made in all the CBSE affiliated schools address any sexual harassment of the student within the school campus. The onus for safety and security of children in school campus shall exclusively lie upon the school authorities. Attention must be paid on stringent checks and verification of hired teaching and non-teaching staff in the school. A detailed check of non-teaching staff has been also demanded.
Trump Administration Reportedly Will Not Withdraw US From Paris Agreement After All
The Wall Street Journal also reported that President Trump was not planning to pull out of the deal. But the White House promptly issued a denial.
A two-member fact-finding committee set up by CBSE following the murder of seven-year-old Pradhuman Kumar last week said it appeared from the sequence of events that Ryan's global was guilty of gross negligence.
"I hope to reopen school from Monday and take over management of Ryan International".
"Any violation/lapses with regard to safety and well-being of children in school campus would invite appropriate action including the disaffiliation of the school as per the provisions under affiliation by-laws of the board", it adds. It further observed, "The school management also failed to inform police and Education Department regarding incident of death of the child, which shows negligence on the part of school administration".