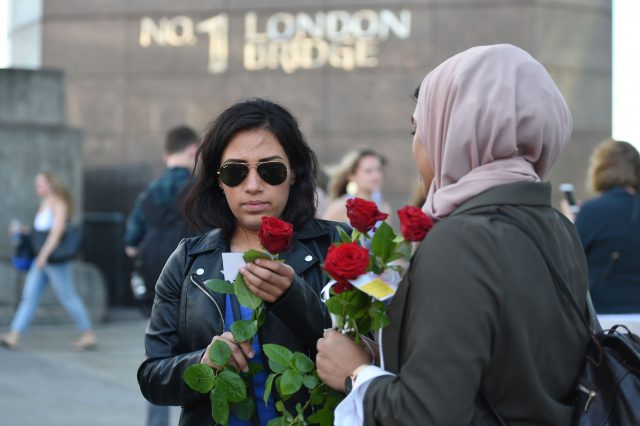 Some of the victims of the June 3 London Bridge terror attack got a welcome surprise on Monday when Princess Kate paid them a visit at King's College Hospital in London.
Kate Middleton was greeted by Nick Moberly, the hospital's chief executive and professor Julie Wendon.
The Duchess arrived at King's College Hospital in Denmark Hill, south London, this afternoon, for a low-key visit which was not publicised in advance so that hospital staff could continue their vital work as normal. Seven were left in a critical condition, and are still receiving constant treatment.
Kate is due to meet with the patients still requiring treatment but, out of respect to the victims, there will be no pictures or information given on these visits. Kate Middleton spoke at length with the hospital staff. Despite arriving alone, however, her husband has also taken some time out of his schedule to pay his respects to those injured in the recent United Kingdom terror attacks.
The London terror attack saw three terrorists crash a vehicle into crowds on London Bridge before attacking people in Borough Market with knives.
"Sadly, six people have died in addition to the three attackers shot by police", he said.
Upon her arrival, the Duchess praised the hospital staff by saying, "Well done".
Finals MVP Durant celebrates with fans outside Oracle Arena
Is it Bill Russell? Is it Kareem Abdul-Jabbar? All-Stars that season: Abdul-Jabbar, Robertson, coach Larry Costello. I vaguely do and the only thing I had remotely to do with them on this never-ending journey was running into on Mr.
A mother has heard how her daughter was brutally stabbed to death in the London Bridge terror attack, as the inquests of the victims were formally opened.
Last week the Prince of Wales and Duchess of Cornwall visited patients and staff the Royal London Hospital in Whitechapel in the aftermath of the tragedy.
It would be almost impossible for victims or police to determine whether or not the bombs were real in the frenzy that ensued on the bridge, forcing them to use extra caution when dealing with the knife-wielding attackers.
"And actually, all staff in the NHS want these days is just to be recognised for what they do, because they get knocked for so much".
Last month, the Queen visited the young victims of the Manchester bombing at the Royal Manchester Children's hospital.
"We look after each other, we really do", she was told.