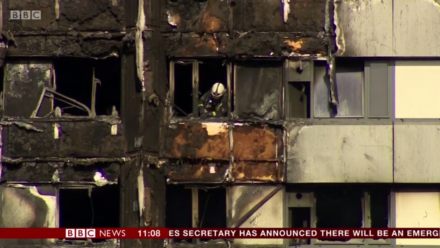 Theresa May's plan for handling the fallout from the Grenfell Tower fire including the support survivors will receive has gone public.
At least 30 people have been confirmed as dead so far after a fire broke out in the the 24-storey tower block in north Kensington in the early hours of Wednesday June 14.
The protesters barged their way through an automatic door at Kensington and Chelsea council town hall and sought to gain entry to an upper floor.
Mr O'Donoghue said it was "another kind of welling-up moment" for the prime minister. The tower was home to around 140 flats, and the death toll is expected to rise.
Conservative former cabinet minister Michael Portillo said Mrs May should have been prepared to face residents' anger.
"I'm sure she will meet the families, but the day after they have lost their loved ones ... the last thing you need is the Prime Minister of the country elbowing their way in".
Mayor Khan wrote to May on Friday, saying residents felt increasingly enraged and frustrated by the slow response from the authorities.
In Rare Moment of Bipartisan Unity, Senate Approves New Russia Sanctions
"This bipartisan amendment is the sanctions regime that the Kremlin deserves for its actions", Shaheen said . The sanctions follow the scandalous departure of Michael Flynn as Trump's national security advisor.
Ellwood was then reminded that Corbyn "spoke to residents", before he changed tact to concede the Conservative Party had made mistakes during the election but were on track with Brexit talks.
Ms Leadsom highlighted the government's efforts to provide support for victims of the fire in the short term and also promised that "people's housing needs longer-term will of course be met".
"That's one of the most awful things I have ever seen", Prince William said of the tower's blackened shell. "Hackney is once again at the forefront of resident safety with this fire sprinkler system, providing residents with an extra layer of safety in case the worst should happen".
London police said an investigation, led by a detective from its homicide and major crime unit, would examine whether criminal offences had been committed although they said there was nothing to suggest the fire was started deliberately.
Some victims of the inferno may never be identified, the Met's commander Stuart Cundy said.
The Daily Express reports the demonstrations and says the government has pledged £5m to fund immediate help.