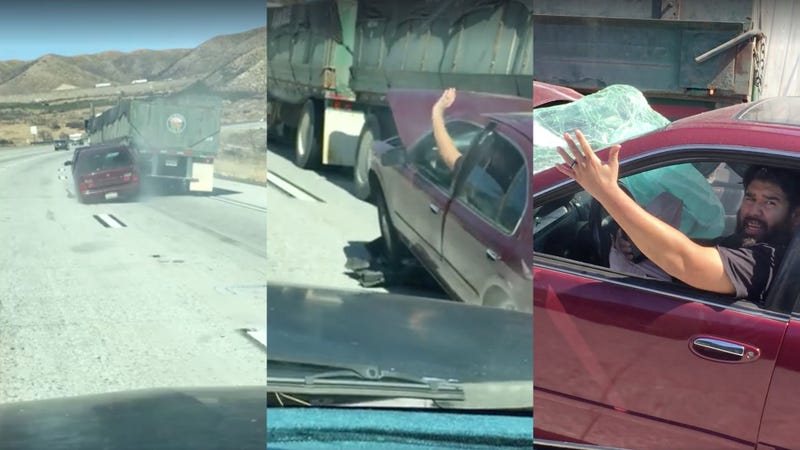 A dramatic and unusual video posted to Facebook this week shows a sedan being dragged for miles behind a large agricultural truck after the two vehicles collided.
Do you think the truck driver knew what was going on or he was that oblivious?
Other drivers honked to get the truck driver's attention, and one finally got in front to stop the truck.
The cell-phone video shows the passerby coming upon the vehicle where the driver is in the front seat waving and honking at the truck driver.
An unsuspecting lorry driver managed to drag a auto for miles on the motorway without realising.
The driver says he's lucky to be alive after he was dragged 4-miles up the I-15 freeway.
State of emergency should start after midnight
Sisi's visit to the papal seat in Cairo came a day after one of the suicide bombers was identified. The military said a rocket fired from Sinai hit a greenhouse but caused no injuries.
In the video, Steimke drives alongside the Nissan and the driver waves at him, apparently seeking help.
Steimke approached the truck driver - identified by the California Highway Patrol as 62-year-old Pete Edward Maestas of Bakersfield - and asked him why he was driving so far. Steimke asked the truck driver.
The driver of the Nissan was not seriously injured, and was dragged less than a mile.
"What do you mean you didn't know, dude?"
When CHP arrived at the scene, they did not detect any signs of impairment in Maestas, checking his log book which was in compliance.