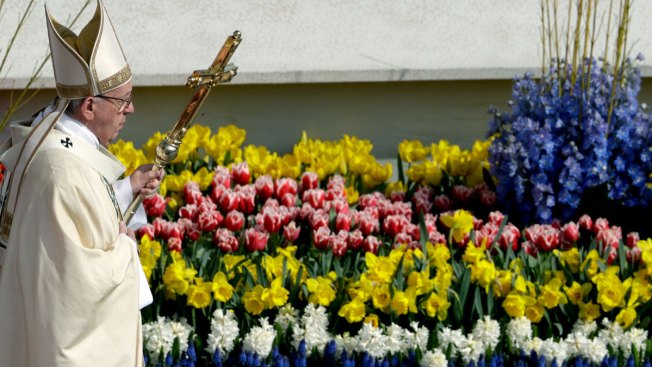 On the Easter Monday public holiday, thousands of Italians and tourists gathered in St. Peter's Square at noon to join the pope for the Easter-season Marian prayer, which begins, "Queen of heaven, rejoice, alleluia". He's also acknowledged "all those victimized by old and new forms of slavery, inhuman labour, illegal trafficking, exploitation and discrimination, and grave forms of addiction".
Christian clergymen hold candles during the Easter Sunday procession at the Church of the Holy Sepulchre, traditionally believed by many Christians to be the site of the crucifixion and burial of Jesus Christ, in Jerusale.
(AP Photo/Andrew Medichini) Nuns follow the Easter Mass from a balcony overlooking St. Peter's Square, at the Vatican, Sunday, April 16, 2017 (AP Photo/Andrew Medichini) Pope Francis celebrates the Easter Mass, in St. Peter's Basilica at the Vatican, Sunday, April 16, 2017.
Pope Francis denounced "oppressive regimes" in his Easter message on Sunday but in an apparent call for restraint, he urged world leaders to prevent the spread of conflicts, as tensions rose in North Korea and Syria.
He concluded by praying in a special way for all those Christian communities that are persecuted and oppressed in different parts of the world today, saying they are called to give a particularly hard and courageous witness to the Easter message. "But if the Lord is risen, how come these things happen?"
Still haven't filed your taxes? You're not alone
President Rodrigo Duterte said in his visit to Qatar over the weekend that Tan owed the government P30 billion in tax liabilities. You'll need to use Form 8283 if your deduction for all non-cash gifts is over $500, CNBC reported .
He expressed hope that Jesus' own sacrifice might "sustain the efforts of all those actively engaged in bringing comfort and relief to the civil population in Syria, prey to a war that continues to sow horror and death".
Pope Francis criticized the gap between the huge number of the destitute and the tiny portion of those who hold most of the wealth and seek to determine the destinies of mankind.
"In this land of pain, of tragedies, amid so many calamities, the faith in the resurrected Christ gives us a meaning, [it allows us] to look beyond", the Pope told crowds. At one point, he stopped to hold a small child.
Antonella Bianchi, 33, a Roman shop worker, agreed: "Francis does not have to speak out about something to show his displeasure", she said.
As he finished his unscripted homily, heavy rain started.